Bertrand Couture
Ya YA Foods Corp
In today's fast-paced and highly competitive business environment, the role of the Chief Financial Officer (CFO) has evolved significantly. No longer solely responsible for managing a company's finances, the modern CFO is expected to be a strategic partner to the CEO and play a critical role in shaping the organization's overall business strategy.  CFOs are also increasingly being held accountable for managing risk, driving growth and ensuring compliance with regulatory requirements.
One example of a CFO who exemplifies these expectations is Bertrand Couture of Ya YA Foods Corp.  As CFO, Couture has been instrumental in overseeing the financial operations of the company, implementing cost-saving measures and driving profitable growth.  He plays a key role in developing and executing the company's strategic initiatives including expanding its product line and geographic footprint.   Couture demonstrates a commitment to ethical business practices and ensures that Ya YA Foods Corp. complies with all relevant regulations and standards.  Through his leadership, Couture has helped position Ya YA Foods Corp. as a leading player in the highly competitive food industry.
Professional Journey so far
Couture began his professional journey in the Consumer-Packaged Goods (CPG) sector, starting his career at Procter & Gamble Canada. From the start, he was enamored with the fast-paced nature of the industry and its direct and frequent impact it has on people's daily lives. For most of his career, with the exception of three years in pharmaceutical, he has worked exclusively in the CPG industry.
Couture moved from Quebec City to Toronto two decades ago to kickstart his finance career with the ultimate goal of becoming a CFO. His personal motto has always been to make a positive impact in people's lives.  He shares, "As a CFO, I wholeheartedly accept this responsibility and strive to make a difference every day."
Leading with Financial Insight
Upon being hired as the CFO of Ya YA Foods Corp., the new Finance in-charge was expected to provide financial planning, analysis and insights to guide strategic decision-making for the future. Drawing from his previous experiences with global companies, Couture introduced several concepts to Ya YA Foods Corp. including customer profitability analysis, customer segmentation and strategic revenue management.  "It is imperative to understand the profitability and goals of each customer to achieve success at Ya YA Foods Corp.  This understanding laid the groundwork for our customer segmentation work in which we identify strategic and tactical customers and develop specific actions to support our growth aspirations", he shared.  When we asked Couture to talk about any specific financial strategies he implemented at Ya YA Foods Corp. he shared, "I have successfully implemented Strategic Revenue Management by using tools to grow revenue profitably. These include pricing, product mix, customer mix, increased line throughput, re-evaluation of site plans to add more lines and exploration of new formats and categories".  Leveraging these tools in the last eighteen months has positively impacted both sales and profit growth in 2022.  These tools have also helped identify the building blocks to grow sales eightfold and profit tenfold by 2026 year-end.
Couture created a full Financial Planning & Analysis team from the ground up since there was only one full time employee spending half their time on FP&A tasks. Today, Ya YA Foods Corp. has a team of five full-time employees dedicated to FP&A who report directly to Couture. His team has introduced several essential concepts such as a five-year strategic plan, profitability analysis of customers and manufacturing lines, customer segmentation, pricing to reflect inflation, headcount reporting and S&OP (Sales & Operation Planning).  These concepts provided valuable insights and brought discipline to the organization, contributing to a remarkable +35% increase in EBITDA by the end of 2022.   It also enabled the company to identify the necessary building blocks to achieve its vision of becoming the #1 Co-Packer in North America.
Ya YA Foods Corp. is a privately owned company and does not share quarterly earnings targets like public companies.  Ya YA Foods Corp. is a co-packer of aseptic food and beverage products including plant-based and high protein beverages, specialty milk and dairy beverages, broths, fruit juices and sports drinks.  The Company is focused on long-term strategic growth led by CEO Yahya Abbas with over 30 years of experience and expertise in the beverage and liquid food manufacturing industry.  In Feb 2021, Ya YA Foods Corp. was acquired by a private equity firm called E2P – Entrepreneurial Equity Partners.  E2P is a firm oriented on creating value via growth which is a point of difference from many other private equity firms that focus on cost cutting.  E2P brings together seasoned operating executives and experienced private equity investors in the food industry.  Couture is pleased to work with E2P and feels they understand what it takes to win in the food industry.  He notes that they have provided 100% support to him and the CEO regarding their growth and expansion strategies.
The power-house team of Couture and Abbas with the support of E2P's high-talented team and vast network is leading to an exciting road ahead.  Abbas regularly updates the team with the latest trends and developments in the industry.  "My FP&A team and I use these insights to capture these trends in our strategic plan and update it accordingly to stay ahead of the competition, deliver the best quality product and provide exceptional service and options to our customers" shares Couture while elaborating on how he ensures the company stays in-sync with the changing market trends and demands.
Ever since he was a child, Couture has had a fascination with numbers.  He recalls playing a baseball game on his Mattel video console which did not keep individual statistics for each player after each game.  He would jot down each player's stats on a piece of paper including singles, doubles, triples, home runs, strikeouts, outs and RBIs then manually calculate all the statistics to rank the players.  This passion for numbers continued throughout his education where he initially pursued Actuarial Science.  He switched to business management with the intention of pursuing a CPA (Chartered Professional Accountant) designation.  His finance teacher's enthusiasm shifted his focus away from accounting to Investment Banking and Portfolio Management.  He then developed a passion for corporate finance after serving as the VP Finance for Université Laval's student government (CADEUL) for two years. Couture pursued an MBA in Corporate Finance at Université Laval and later secured a job as a Financial Analyst with Procter & Gamble Canada, relocating to Toronto from Quebec City.
Lastly, talking about what Couture took back from the pandemic phase, "The pandemic has been a difficult time for everyone including my family. I lost my job like many others and was unemployed for nine months.  I used the opportunity to spend more time with my family.  I reflected on my career and also learned new skills such as cooking and renovation painting.". "The most significant lesson that was reinforced is that my family is the most important part of my life.  My wife and I joke that behind every successful man is an exhausted woman.  I am not perfect and I make mistakes but I will always do everything in my power to protect and cherish my lovely wife – Rachelle Rodas and my five children", he concludes.
Couture recently presented a series of career tips to 9th graders who came to Ya YA Foods Corp. He encouraged them to seek out experiences beyond school or work to develop leadership skills.  He encouraged them to embrace challenging assignments for personal growth and to seek what drives their passion. Focus on performance and personal development first then money, title and prestige will follow. He also advised that if a job or company is not a good fit, it is important to do what is right for you but to leave professionally without burning bridges.   If one ever loses a job, they should use that time to reflect on personal improvement and continue developing themselves for their next opportunity. He concluded that family should always come first. There are countless companies out there and you can always find a new job, but one's family is irreplaceable.
Company
Ya YA Foods Corp.
Management
Bertrand Couture
Chief Financial Officer
Description
Ya YA Foods Corp. is a privately owned Canadian business with over 30 years experience in beverage and liquid manufacturing. From humble beginnings as a small, privately owned juice company to the versatile beverage and liquid foods manufacturer and co-packer we are today, we have never lost our roots or sacrificed our quality.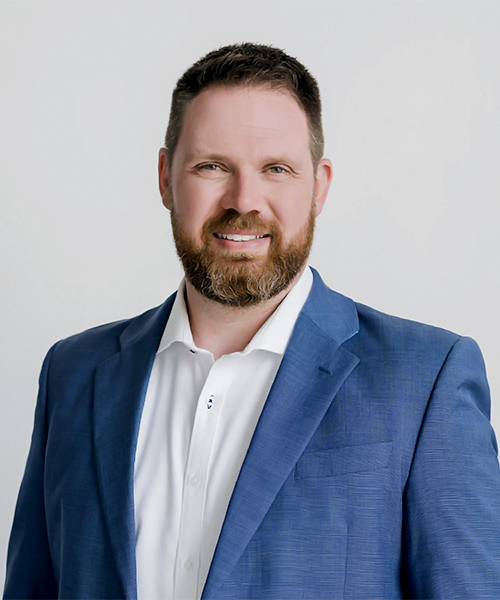 Being that person who was always interested in sports since his early years, Mike Edwards was appointed as a red shirt for his University Basketball team.