Executive Director, Higher Education for Good Foundation
Dr. Marine Hadengue 
Executive Director, Higher Education for Good Foundation
Leading the Way towards a Brighter Future
Higher education needs to be reshaped for several reasons. Firstly, the current education models and programs were designed for a different era and are no longer aligned with the rapidly changing world and the challenges that society faces today. Secondly, the cost of higher education has risen significantly in recent years, making it less accessible to low-income families and creating a burden of debt for many students. Thirdly, the job market is evolving rapidly, and employers are seeking graduates with different skill sets than those traditionally taught in higher education. In summary, higher education needs to be reshaped to better align with the changing needs of society, improve access and affordability, and provide graduates with the skills and competencies required to meet the challenges of our time. Higher Education for Good has been doing just that, right in pursuit of transforming Higher Education at a fundamental level, while equipping students with knowledge and skills needed to become responsible and committed agents of change. 
Understanding the reason behind why young people have always faced challenges – back then and even now, Higher Education for Good under the capable leadership of Dr. Marine Hadengue (the CEO) prepares (?) present and future generations with the skills they need to anticipate these challenges and develop sustainable solutions accordingly.
"Education does more than merely serve a changing world. It has the capacity to transform it. In the current context, education is one of the primary keys to facilitating a transition toward a more sustainable society. Therefore, I have decided to dedicate my professional career to this cause", shares – Dr. Hadengue, when we asked her why she chose a career in the field of education. "I am not the only one to think that it is at the root that we must return to: Education, but also I wish, as much as possible, to contribute to transforming this education which can then, in turn, transform minds and life habits", Dr. Hadengue added.
Through the conversation, Dr. Hadengue emphasised on why her personal interests lie in the field of management education, as she feels the current models of higher education, which prioritize the utilitarian and siloed transmission of knowledge, are outdated and unsuitable for the challenges we face. And also because Management Education plays a critical role in training future leaders of organizations, which are vital components of our societies, who will represent an essential tool for changing the core values of several small and big organizations.
Sustainable Society in the Making
Positioning itself as a change catalyst, Higher Education for Good Foundation (HE4G Foundation) was started to help support educational institutions transform their curriculums to meet the needs of the mid-21st century.  "Youth Talks", the HE4G Foundation's first initiative, is consulting young people directly about how they view the future and the skills they will need to shape it and flourish in it.
Utilizing advanced AI technology, Youth Talks is a unique and extensive online consultation on a global scale aimed at obtaining valuable insights into the expectations and requirements of the younger generation as they begin to enter higher education and the workforce. Through posing future-oriented open-ended questions to the youth, this initiative has already garnered hundreds of thousands of ideas and contributions from individuals all over the globe. Moreover, to reach out to these young people, HE4G has convened a large network of 50+ partners who are interested in applying the results of this consultation as they develop their strategies for the years and decades ahead. These partners include many leading universities and colleges, international, political, business, and governmental institutions.
A Detailed view on Youth Talks
Youth Talks is a groundbreaking initiative that marks the first-ever global consultation that invites individuals aged between 15 and 29 to share their opinions, concerns, and aspirations regarding the future of education by answering open-ended questions. By analyzing the responses using advanced AI tools such as semantic and lexical analysis, Dr. Hadengue and her team aim to gain valuable insights without imposing their ideas or biases onto the young people. Instead, the HE4G team provides a platform for them to share their thoughts freely. This approach is unique and differs from traditional surveys that often miss out on such critical information. Additionally, Youth Talks is conducted on a global scale and is available in multiple languages, including French, English, Spanish, Arabic, Portuguese, and Chinese.
Currently, Youth Talks has received over 1,000,000 contributions from more than 45,000 young individuals in 200 different countries. In addition, there are more than 2,300 young ambassadors who are actively promoting this initiative. To encourage diverse forms of expression, the online consultation allows young people to participate through written contributions, voice recordings, and image uploads on the platform. To expand the reach and diversity, Dr. Marine Hadengue and her team have conducted roughly 100 filmed interviews across the globe, where they asked young individuals from various continents, regions, and backgrounds to answer the consultation questions.
HE4G anticipates that the Youth Talks initiative will have a significant impact on driving and shaping curriculum change by providing a wealth of valuable data about the desires of young individuals. The next crucial step towards implementing change will involve working closely with partners in the network to determine how to apply this knowledge effectively. For curriculum change to be successful, it must be initiated and driven by the educational institution delivering it, and HE4G's role will be to assist partners in gaining a better understanding of what young individuals desire and collaborating on how to incorporate this demand.
"By working closely with our partners, HE4G expects to learn valuable lessons about how to modernize curriculums. This knowledge will be gathered in a curriculum redesign hub housed at the foundation that will be a core part of a broader initiative to drive change in higher education", continued Dr. Hadengue.
In addition to the aforementioned efforts, this wider initiative is also expected to involve offering technical guidance on curriculum design, with some fundamental building blocks overseen for quality and rigor by the HE4G Scientific committee. Furthermore, the HE4G 21st Century Education Fund will provide catalytic grants to help overcome any remaining institutional barriers that may impede progress towards change.
How is Youth Talks Beneficial to Many?
Youth Talks aims to become the youth expression platform, a safe space allowing every young individual to share ideas, dreams, and concerns and be represented. To aid various organizations and stakeholders in effectively serving the youth and tackling current challenges, the outcomes of the consultation will be made available in multiple formats:
For the general public and interested parties, there will be a dynamic online platform showcasing the consultation results through data visualization, categorized by country, socio-economic level, and other relevant factors. Additionally, a library of sounds and images will be accessible, linking all the data collected. This platform will provide a real-time depiction of the youth and their aspirations.
For the Higher Education for Good Foundation and its partners, there will be a comprehensive report that can serve as a foundation for reassessing education models, programs, and other youth activities. Dedicated tracking links will also show the outcomes in each of the partners' country or region.
For researchers worldwide, raw data will be available to fuel scientific research and foster innovation in education and other interdisciplinary fields.
For political institutions, a white paper with recommendations for future policy making will be provided.
Lastly, for the media, there will be access to extracted nuggets of information (uncommon ideas) from the collected data, which can be shared through various media channels to inspire young people worldwide.
A Large-Scale Project but a Human Adventure Above All
The Foundation and the Youth Talks consultation are innovative and entrepreneurial ventures that require a multifaceted approach, thereby as the leader of the Foundation team, Dr. Hadengue's role involves overseeing day-to-day operations and developing strategies to actualize the organization's mission and vision. She also actively takes part in building and nurturing relationships with partners, managing fundraising and investment efforts, and ensuring compliance with policies and legal guidelines are all integral to this role.
As we undoubtedly know by now that a project, particularly one of this magnitude, is primarily a human experience. Although its reach is global, everything begins with the team's spirit. "I believe that the essential aspect is the ability to bring together the individuals involved in the project. Certainly, they must possess the right skills, but their dedication and cohesion are even more critical", Dr. Marine shares. She continues – "There is no one-size-fits-all solution. Every interaction counts, and each team member has a contribution to offer, and it is the leader's responsibility to seize it. Added to this is the reality of daily management and the processes that enable us to be effective and make decisions. Every day, I strive to strike a balance between these two realities".
Dr. Marine Hadengue grew up in the Caribbean Islands and spent more than 15 years residing in Canada and the United States before relocating to the South of France. Presently, she divides her time between Nice, Paris, Geneva, and Montreal, and is blessed with a supportive husband and an eight-year-old son. Striving to balance her personal and professional life, she seeks personal growth and development for herself and those around her, in turn, being strongly convinced that there is no way to happiness. Happiness is the way.
Company
Higher Education for Good Foundation
Management
Dr. Marine Hadengue
Executive Director
Description
Dr. Marine Hadengue grew up in the Caribbean Islands and spent more than 15 years residing in Canada and the United States before relocating to the South of France. Presently, she divides her time between Nice, Paris, Geneva, and Montreal, and is blessed with a supportive husband and an eight-year-old son.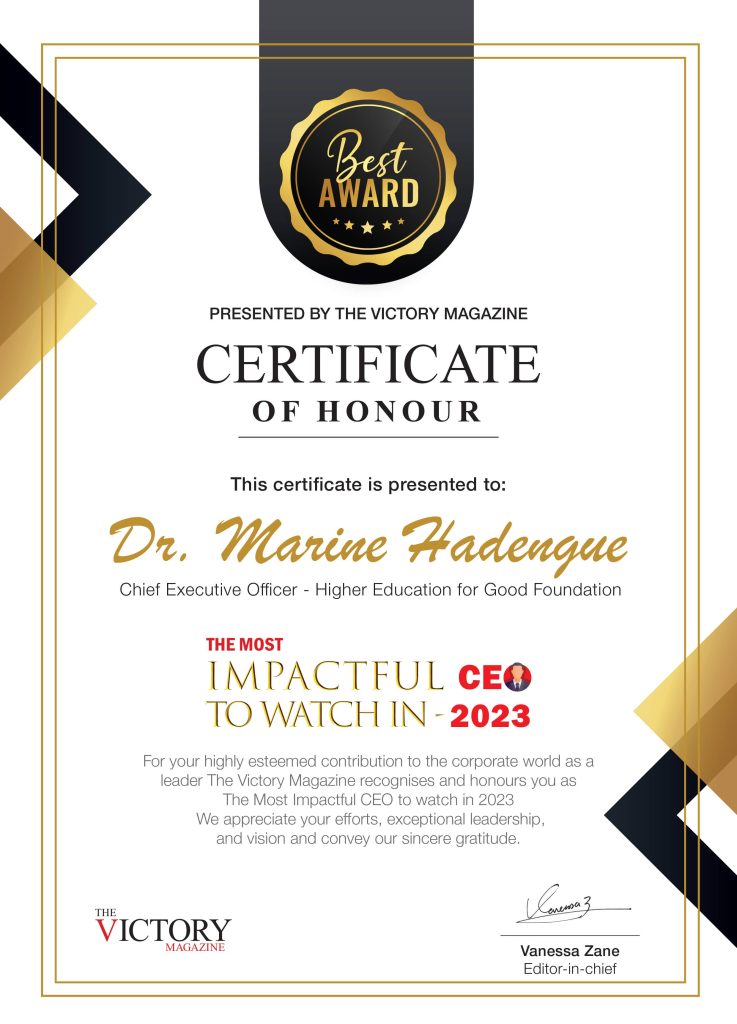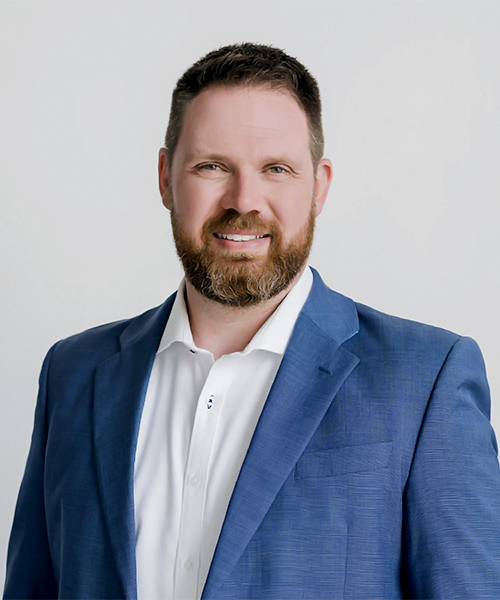 Being that person who was always interested in sports since his early years, Mike Edwards was appointed as a red shirt for his University Basketball team.