A Gifted Leader in Disguise
Adriana Vadillo
A Gifted Leader in Disguise
Building a business is hard. However, every entrepreneur must start somewhere. There is no magic shortcut to building a good business. However, there is no bias in business either. It doesn't matter when you start or where you start your journey. Adriana Vadillo proves just that. Having founded the company – Global Computing 24 years ago, Adriana Vadillo's journey as an entrepreneur was filled with hardships, but in the end – she emerged victorious, all thanks to all the hard work put in and her firm belief in business values.
Having completed her Bachelor of Business Administration, graduated with Honors – ITESM CEM and International Business Minor, graduated with Honors – ITESM CEM, Adriana Vadillo currently leads Global Computing, managing the operation and sales, working in the field to identify needs and translate them into business opportunities. A brilliant academic since her early days, Adriana Vadillo has won several awards in her career, among which the Acceptance in the Executive MBA Program by the SC Johnson College of Business at Cornell University, the Acceptance in the Global Executive MBA Program at Hult International Business School, Recognition by the work performed during my internship at the American Express Latin America Regional Operation Center in Miami, FL, USA and Recognition by the Entrepreneurship Program at ITESM CEM.
Being the oldest of four daughters, since her early days Ms. Adriana was bestowed with an important responsibility. Consequently, she had to accept responsibilities and become self-sufficient very soon, and the constant zeal in her pushed her to work towards a better environment, both in her personal as well as professional life. She landed her first job at Microsoft, at 22 years old, and then at Sybase where she was trained in Burlington, Massachusetts, where she oversaw the Training Facility and the Consulting Services. After 2 years of operations, this branch of Sybase in Mexico closed their offices because they didn't reach their goals and everybody in the company was laid off. At 26 years old Ms. Adriana was unemployed, but her hard-work had left its mark, and as a result – she was contacted by Visual Numerics Inc., an American company who wanted to open a subsidiary office in Mexico, which she did take up at a very early age and was in-charge of setting up the operations from scratch. 
The journey towards Global Computing
After 8 years running the subsidiary office, the company was sold to Rogue Wave Software Inc. and again Ms. Adriana was left without employment. This is when and where she decided to start her own company – Global Computing S.A. de C.V., and her first distributorship agreement with Wolfram Research Inc. With a totally focused vision and mission, she positioned a mathematical computation program for scientists, engineers, and mathematicians in the most important private and public universities in Mexico and guaranteed an important million US Dollars market for the manufacturer. Her company was considered a success case in Latin America, and this let other software manufacturers come knocking on the doors seeking the same success. Having started distributing one technical software product, Global Computing now has around 65 software manufacturer suppliers from different countries around the world !!!
Also, Adriana Vadillo encourages every individual who is a part of Global Computing to operate with high standards of integrity, providing excellent and personalized customer service, encouraging every employee to put the company's goals ahead of their personal ambitions. We characterize ourselves for establishing long-term relationships with all the people we work, be it the suppliers, partners, customers, etc., in addition to complying with all policies and procedures, making sure that all relationships are beneficial for everyone and adding value in each project in which the company is involved.

"It is still difficult to be a woman leader in today's world. Especially in Latin America women are seen as a threat because we bring so many values to the table: we are multitasking, organized, responsible, determined, persistent, loyal", states Adriana Vadillo, talking about how difficult it is even in this time for a woman to excel beyond her set boundaries.  Continuing her above point, she added – "In terms of progressing effectively and efficiently as a capable leader I need to be open to continuously learning from others, be able to work collaboratively with all types of actors and combine talents to reach targets, work under pressure and make good decisions for the greater good".
Progressing efficiently - yesterday, today, and tomorrow
For Adriana, Education is very important in an entrepreneur's life but more than education it is important to have experiences outside of your comfort zone. Adriana Vadillo leads Global Computing as an able leader, helping the company continue to excel as a premium software and service provider in Mexico. Moreover, being small allows the company to make changes very quickly, be creative to adjust to changes and avoid being eaten by the big fishes in this very difficult and challenging environment, all thanks to different ways of doing things and solving problems.
Also, during the pandemic the company found it difficult to adjust to the market needs and demands, but under Adriana's guidance, the company had to diversify to new market sectors, and thus, Global Computing was able to meet the sales targets by selling to the industry sector (pharmaceutical and manufacturing). In this pursuit, the company established new business relationships with software vendors offering communication collaborative platforms, verification of identity tools to fight fraud, software solutions and many more. Explaining in detail about the transition that took place during the pandemic, Adriana added – "We were facing a new world and had to adapt to it quickly as well as a restricted budget government in Mexico so we needed to integrate new software products to our product portfolio". This new change of Global Computing resulted in satisfied professors, researchers and engineers building technology projects that were and will remain the key for the development of Mexico in a whole new world.
Future of Global Computing in a nutshell
Ms. Adriana looks forward to Global Computing to last in time and grow and looks forward to maintaining the brand value and the good reputation as a key supplier of academic and government institutions in Mexico. In addition, she also wants Global Computing to continue being a helping hand for professors, students, and engineers by bringing leading technology to their projects and helping them become more efficient to bridge the gap between developed countries and third world countries. 
Also, as the leader in-charge she promised to continue the strategy of giving more importance to values than to knowledge and working closely with students and professors in academic institutions and participating together in projects. "Collaboration is important because the only way to achieve success is by working as a team, and everyone brings different talents to the table and combining all the talents will help us continue our mission of positively impacting our environment by improving the way people perform their tasks professionally speaking", Ms. Adriana concludes.
Apart from contributing towards the field of software and IT services, Adriana Vadillo has contributed to the academic community in Mexico by closing the gap towards the investment they need to make in this field. She has been creative in terms of working against software piracy by working on site agreements on most private and public universities in Mexico that will bring the technology to a greater number of students, professors and researchers through accessible volume agreements that involve a better price for greater users. 
Additionally, she has involved herself relentlessly working for over 10 years in the most important public university in Mexico, UNAM, to make a mathematical software product available for most students and professors in the institution to prevent software piracy. This societal upliftment and greater good vision helped her get a Social Impact Grant when she was accepted to study her MBA at Hult International Business School. Through its humble gestures, Global Computing was recognized by the software manufacturer as a success story in Latin America.
A staunch feminist herself, Adriana Vadillo has always helped women, offering them options to combine work and the parenting of their children by offering them part time jobs and jobs that adjust to their family lives showing them and the society that it is possible to be productive no matter the number of hours invested in work. Furthermore, adding an important point on the gender-equality gap still existing in today's so called progressive world, Adriana Vadillo shared – "I think there is still too much to do in terms of gender equality in today's society". She believes that it is still a men governed world, and women are just 2nd-class citizens. Thereby, as a women entrepreneur who is working towards change, she envisions seeing herself in a society where education is made mandatory in all homes irrespective of the gender, which Adriana Vadillo believes is the only way to empower girls and motivate them to become what they want to be.
A welcome guide for a successful career
"Follow your heart and work incessantly towards your goal no matter what other people think and tell you", shares Ms. Adriana. She continued – "You will always be criticized, and people will always tell you that you won't make it but they are talking about their fears and limitations not about yours so don't pay attention".  In addition, in an open message explaining what the various do's and don'ts for a successful career are, Adriana talked about how it is possible to achieve all your goals through hard work, the effort you invest in what you do and the sacrifices you make. Adriana also boldly states, "Prepare to lose what you've built over time and start over. Train yourself to lose the fear of losing what you love most."
A heartfelt note to all those budding girls of the world
I will advise them to follow their passion, to swim against the current and be strong to defend what their hearts and minds dictate. To be conscious that each of us has a very individual mission which is not equal to anybody else. To not listen to others but their inner selves and defend their dreams and work hard to reach their goals. To be aware as well that results will not be immediate and that things that are worth it will take time.
Company
Global Computing
Management
Adriana Vadillo
Director General
Description
With 24 years of experience in the detection and satisfaction of specific needs in the IT area in the different academic, commercial, government and research fields, offering specialized software tools adding value through the offering of training and technical advice, creating jobs for specialized professionals in our country and making said services accessible to our clients by being provided by local human resources.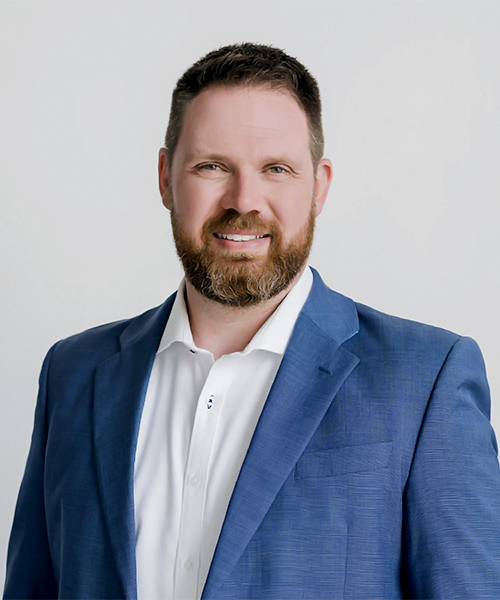 Being that person who was always interested in sports since his early years, Mike Edwards was appointed as a red shirt for his University Basketball team.