Managing Director, Afrigen Biologics (Pty) Ltd
Prof Petro Terblanche
Managing Director, Afrigen Biologics (Pty) Ltd
Inspiring the Next Generation of Talented Scientists
From the start of the modern biotechnology era women have been involved in many of its ground-breaking medical discoveries. Yet, despite their importance, the story of these pioneering female scientists remains largely untold. Despite the significant rise in the number of female graduates with life science degrees in the past three decades, few women gain leadership positions in the medical and bioscience fields in either academia or industry. To address this gap in the narrative and to foster greater public appreciation of the contribution women have made and continue to make in the field of Biotechnology, the story of Prof Petro Terblanche is a good start in this very pursuit.
A bit of a workaholic, but someone who knows how to play, her love for her 2 daughters and spending good fun times with them is a priority and her passion for horses takes her to the farm and nature and these magnificent animals during weekends. 
Also, a key member in helping shape the redesigning and implementation processes of South Africa's biotechnology strategy, Professor Petro Terblanche has a successful track record in the strategic and operational management of technology intensive organizations. She holds the position of Managing Director of Afrigen Biologics (Pty) Ltd based in Cape Town, South Africa, which hosts the WHO global mRNA technology vaccine Hub created in 2021 under the COVAX initiative in response to vaccine inequality and no access to life saving Covid 19 vaccines in many countries in the Global South. The mRNA Hub is a technology development and transfer program to create capacity and capabilities in LMICs to produce their own vaccines. The team in SA has a mRNA Covid 19 vaccine candidate in development. Petro also holds a part time position as Professor in the Faculty of Health Sciences at the North-West University.
Having spent a considerable part of her career in research, development and innovation at the South African Medical Research Council (SAMRC) as well as the Council for Scientific and Industrial Research (CSIR), Prof Terblanche started her career when women representation in this field was scarce. Sharing a point on this, she states – "I was privileged to be the first woman to be appointed as a Director in a leading science and technology institution 2 decades ago". Also, emphasizing on how the representation scenario has changed drastically, and stating an important point on the empowerment factor present at Afrigen, she added – "In this current era women are better represented and increasingly taking strong leadership positions in Biotech Academia, Startups and Corporates. Also, Afrigen staff comprises 67% women and in the top management team there are 5 women and 2 male professionals".
An academic genius since her early childhood days, Prof Terblanche's interests deviated from zoology to oncology. As a result, Prof Terblanche holds a Master of Science and a Doctor of Science in Medical Oncology from the University of Pretoria, a postdoctoral from the Harvard University School of Public Health and thereafter she has completed her Management of Technology program from MIT. Apart from having participated across several management and leadership programs, Prof Terblanche is the author of more than 200 scientific publications and conference papers in public health. She was recently acknowledged as one of the legends of science by the Academy of Sciences South Africa. Always believing in putting her knowledge and passion to real needs and impact and not just using it for making money, Prof Terblanche took the lead on the Vaal Triangle air pollution health study in 1990, which was assessing the effect of air pollution on children's health in an area outside Johannesburg.
Currently serving as the Managing Director of Afrigen Biologics, she feels it's important to give due credit to all those hard working scientists, pharmacists, analysts, engineers and support staff that create value and who are the heart of the company. Ecstatic in her tone, Prof Terblanche shares – "I value them above myself, and I am enthusiastic and motivated and very much looking forward to the journey of growth and impact that Afrigen is on". Prof Terblanche talks about how the last 18 months at Afrigen have been so engaging and fun, as they are on the verge of building an end-to-end mRNA vaccine innovation platform uniquely and proudly African. The team is working around the clock to complete a facility that will be a world class mRNA product  development and production center of excellence. Also, all due to the strong leadership attributes Prof Terblanche leads with, Afrigen has grown exponentially, from the increased staff intake to global networking, she has clearly guided the company by working towards providing a meaningful impact through and through.
Moreover, explaining in detail about her role at Afrigen, Prof Terblanche states – "As Building and sustaining partnerships is a strategic requirement of Afrigen, I take great care in fostering relationships, and I am much better at strategic thinking than operational management".  Through a brief conversation, Prof Terblanche elaborated on how focused she was on strategic partnerships – from technology/science to politics, where she had to work really hard with  the stakeholders in the mRNA Hub such as WHO and MPP to create a community of partners from Governments, Academia, Biotechs, NGOs, and so on. Also, she emphasized on how she continues with her team to foster commercial partnerships aligned with their B2B business model for the non mRNA Hub parts of Afrigen.
"The Pandemic was a watershed moment for us, we were a startup, pre-revenue status 12 person company developing and progressing our first ever product to go to market", exclaimed Prof Terblanche, talking about how difficult it was coping with the turbulence of the pandemic. Putting her best foot forward and understanding that this is the most vulnerable phase of their lives, Prof Terblanche and her team managed to get their one Shareholder Avacare Health who has been carrying Afrigen to phase to give them capital funding to build a facility that will meet stringent regulatory and quality requirements. And thus began the phase of working towards establishing a uniquely designed facility suitable for mRNA vaccine development and manufacturing, with a goal of delivering in 18 months, as a life saver. This is where her real expertise came into picture and this is why even today life of Afrigen has no normality – it is active, dynamic, fast moving with multiple layers of activity – very alife!.
An Open Message for All those Budding Biotech Enthusiasts
A career in Biotech takes fundamentally the same qualities than any other knowledge intensive career would. Hard work, commitment, dreaming, creating, delivering all the good qualities of a successful career. Most importantly you must love bio – it is a world of certainty, yet great unknowns and many failures healed by great achievements. It asks for perseverance and a great sense of self discretion and problem solving. If you have an interest, make sure you choose school subjects that allow entrance, study hard and try and find a company like Afrigen that will be prepared to give you vacation and work place experience to cement your career objective. Remember Biotech is vast, diverse and a platform for many opportunities but it changes the world. All the time!
Company
Afrigen Biologics (Pty) Ltd
Management
Prof Petro Terblanche
Managing Director
Description
Afrigen Biologics and Vaccines is a Cape Town based biotechnology company strategically directed, supported and capitalized by Avacare Healthcare Group and the Industrial Development Corporation (IDC) of South Africa.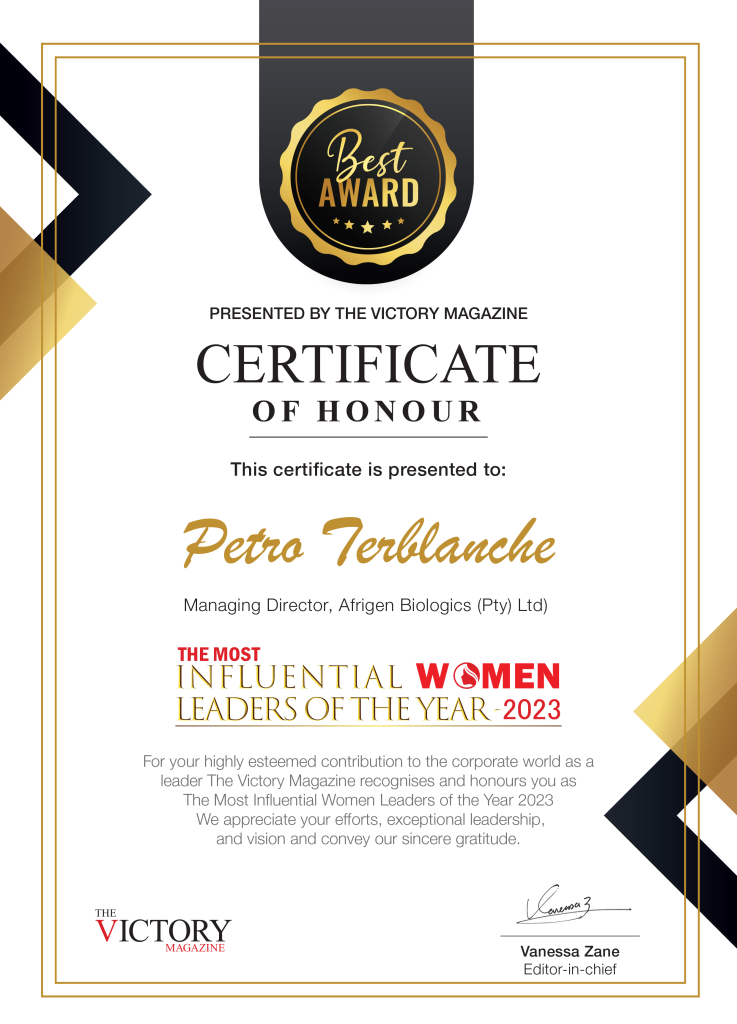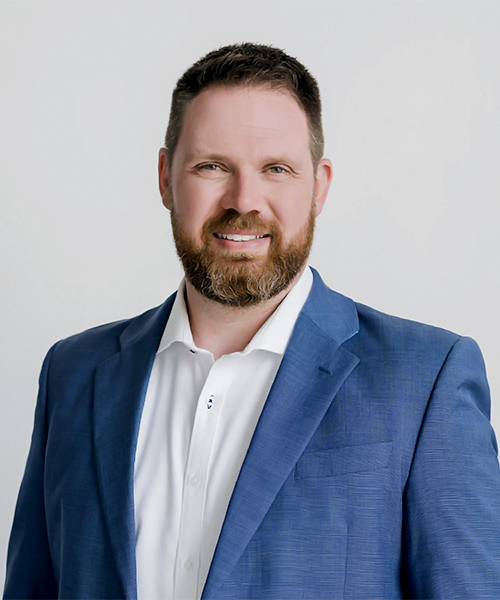 Being that person who was always interested in sports since his early years, Mike Edwards was appointed as a red shirt for his University Basketball team.